We are committed to the quality of our work, to provide an excellent customer experience and to exceed your expectations to the fullest. Our goal is to help ease you into a stress free environment, while being pampered during our services. You will find that we can fulfill all of your desires while we will show you all the right products and tools to keep you looking vibrant and beautiful all day long!
Mirage Salon is passionate about healthy hair, luminous skin and overall wellness of the human body. We want to give the best customer service and provide a relaxing environment so our guests feel at home. Our mission statement is to provide our clients with a complete line of environmentally responsible products and practices.
Mirage Hair Salon in Costa Mesa is committed to fulfilling the absolute customer experience.

Our team has a blend of European and domestic training, consistently advancing our skills in the art and science of beauty through seminars and classes staying up to date with the latest styles and trends.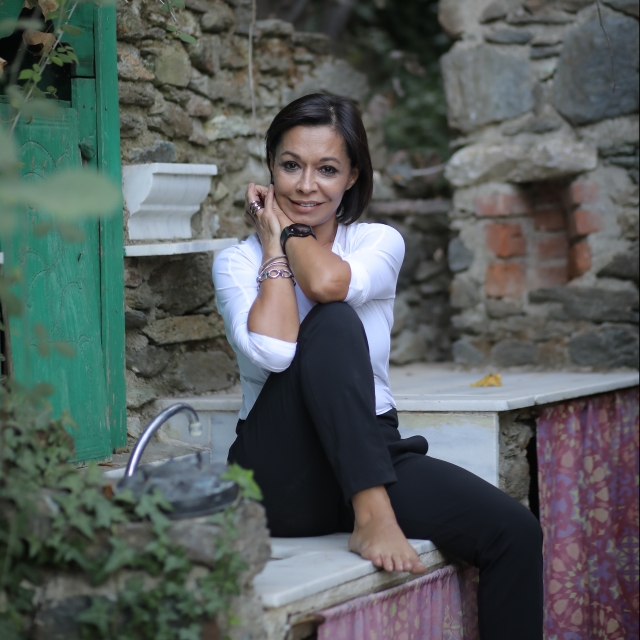 SABRINA UNALP
Owner/Stylist
Veteran Stylist/Proprietress of Mirage Salon, is a master of her craft. Bringing her European flair to enhance this unique experience, Sabrina's international training ables her to exceed all expectations. Her vast experience in both the Fashion and Cosmetology Industries has given her the ability to provide each client an unforgettable experience every time they visit the salon.
Sabrina is community minded and is an avid supporter of St. Joseph Hospital. She has volunteered and fundraised for many years in support of cancer survivors.
Sabrina's passionate belief that you never have to sacrifice your health for beauty is promoted through her organic and holistic products and processes, ensuring that healthy hair and scalp is attainable to all. She is committed to understanding her clients' desires and needs, giving her the ability to ensure the best result for each client. She is expert at working with all types of hair. She has a passion for color and is expert at color correction. She continually refines her knowledge and expertise, giving her the power to suggest and create a variety of color and style options for her valued clients.
Sabrina invites you to expand yourself by allowing her to create a transformative, healthy, signature hair style just for you!
MIRAGE SALON
Please be aware that a credit card number is required to reserve your appointment.
We understand that sometimes extraordinary circumstances are unavoidable and you may need to change your schedule. We kindly ask that you give us 24 hours notice if you need to cancel your appointment. If 24 hours notice is not given, you will be charged 50% of the al a carte service fee. Missed appointments or "no shows" are subject to a charge in the amount of the full al a carte service. 
Cancellations and "no shows" leave gaps in our schedules that cannot be filled without timely notice. This notification courtesy enables us to schedule another client and, in turn, maintains a higher availability of services for you as well as others. Due to scheduling commitments to other clients' schedules, we may need to reschedule any appointment for which you are more than 10 minutes late.
We hope you understand the need for these 
policies
. If you have any questions, please do not hesitate to ask.